Looking for a Valentine project?
Summer theme beads and jewelry?
In this page you will find the tutorials you need for making unique looking beads! make wonderful beads to decorate your life!
-------------------------------------------
Choose your favorite tutorial from the list below and click the "Buy now" button or "Add to Cart" to purchase it, you will be forwarded to my paypal account for payment.
If you want to purchase several tutorials you can enjoy the great bundle deals.

In this page you will find these tutorials -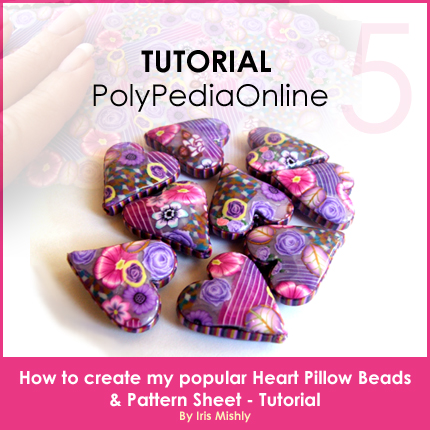 PolyPediaOnline Vol. 5 - How to create heart pillow beads and pattern sheets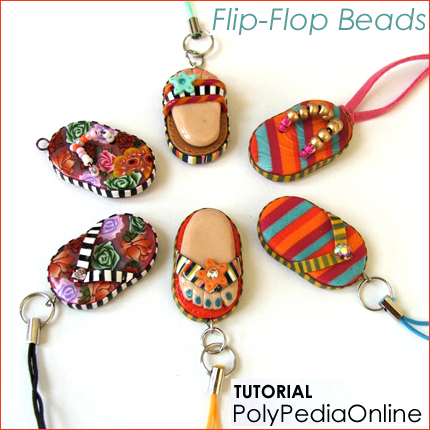 PolyPediaOnline Vol. 13 - How to create Flip-flop beads, ice-cream lolly beads, beach ball beads
PolyPediaOnline Vol. 20 - How to How to create beautiful puffy beads using scrap clay, handmade molds and cookie cutters

Great Value - Choose 4 PolyPediaOnline tutorials for 55$ (Selected tutorials only)
Great Value - Choose 2 PolyPediaOnline tutorials for 30$ (Selected tutorials only)
Great Value - Choose 10 PolyPediaOnline tutorials for 120$ (Selected tutorials only)

All tutorials will be sent to you by E-mail in PDF format as soon as payment notification message from PayPal received.

Please make sure that your email in paypal is correct, verify that it is up to date, or specify a different email address you would like me to use.

The links are not automated. Each one is sent personally by me and should be with you within 48 hours of purchase thus allowing for the time differences between countries. I do try to check my email as frequent as possible.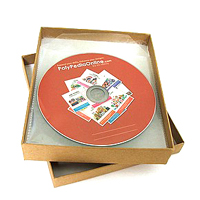 Want a CD sent to your home with the tutorial/tutorials you ordered?
Click on "Add to Cart - Tutorial by CD" and a gift box with a CD will be mailed to your Paypal address - Great as a gift too!



Closer look

Click on these pages to see what's inside!

Page 1 | Page 2 | Page 3 |

Price 18$





PolyPedia E-Book TUTORIAL Vol 5 - ESPECIALLY FOR Heart Lovers & for Valentine - How to Create Polymer Clay Heart Pillow Beads, Pattern Sheet and Stripes Sheet - 17 pages Step-by-Step Instructions

My tutorial demonstrates how to Create Polymer Clay Heart Pillow Beads, Pattern Sheet and Stripes Sheet, with clear and detailed instructions, 17 pages and about 50+ full-color pictures to guide you through.

The tutorial is a final project!
Use your clay and canes and be your own designer by combining these beads in your own work.

table of content covered:

- Introduction
- Tools & materials
- Pattern Sheet
- Making the heart pillow bead
- Stripes sheet
- Photos of some more pillow beads


--------------------------------------------
--------------------------------------------------------------Back to Page Top












Price - 19$ for 3 tutorials






PolyPedia Vol. 13
3 TUTORIALS - "SUMMER TRIO" - Press here for details

ALL 3 PDF tutorials for the price of 1!



* PolyPedia E-Book How to make 3 versions of polymer clay Flip-Flops -

--------------------------------------------
--------------------------------------------------------------Back to Page Top

Closer Look




Closer Look



Sneakpeek here!
Page 1 | Page 2 |



Price 19$





PolyPediaOnline Vol. 20 - How to create beautiful puffy beads using scrap clay, handmade molds and cookie cutters

The "Puffy Beads" tutorial demonstrates an easy method for making perfect "puffy beads" out of your own handmade molds by using scrap clay and cookie cutters. The technique is different from making a "regular" pillow bead.
In this class I have chosen hearts and star beads, but you can create any design you like.

These beads can be used as charms or pendants in everything from necklaces to earrings.

You will also learn how to make molds from found objects by embedding them in scrap clay and duplicating identical beads over and over.

Clear and detailed instructions, 22 pages and over 60 photos to guide you through.

Class level - All levels



--------------------------------------------
--------------------------------------------------------------Back to Page Top













Click below in this page on each tutorial links to see pages inside!

Price 55$




CHOOSE 4 TUTORIALS OF YOUR CHOICE from:
PolyPedia E-Books (4 from this list)
Vol. 1-16
Vol. 19,20
Vol. 28, 29, 30
for 55$ instead of 81$+!

How to Create Polymer Clay Millefiori Canes: flowers canes, geometric canes, symmetric mirror-cut kaleidoscope canes, fruits canes, animal skins canes, flower centers canes& pillow beads, butterfly canes, roses canes, signature name canes and more for 55$ only instead of 81$+!

Hundreds of pages Step-by-Step Instructions TUTORIAL!
That's only 13.75$ per tutorial while some of them are 25$ for one!

Additional video bonuses will be sent to vol. 8,9 purchasers

Pre-requisites: Some previous experience with polymer clay is helpful

Please write the vol. numbers/names of the tutorials you would like me to send you in the "message to the seller" on paypal,or send me a message with these details.
-------------------------------------------
--------------------------------------------------------------Back to Page Top













Click below in this page on each tutorial links to see pages inside!

Price 30$





CHOOSE 2 TUTORIALS OF YOUR CHOICE from:
PolyPedia E-Books (2 from this list)
Vol. 1-16
Vol. 19,20
Vol. 28, 29, 30
for 30$ instead of 44$+!

How to Create Polymer Clay Millefiori Canes: flowers canes, geometric canes, symmetric mirror-cut kaleidoscope canes, fruits canes, animal skins canes, flower centers canes& pillow beads, butterfly canes, roses canes, signature name canes and more for 30$ only instead of 44$+!

Hundreds of pages Step-by-Step Instructions TUTORIAL!
That's only 15$ per tutorial while some of them are 25$ for one!

Additional video bonuses will be sent to vol. 8,9 purchasers

Pre-requisites: Some previous experience with polymer clay is helpful

Please write the vol. numbers/names of the tutorials you would like me to send you in the "message to the seller" in paypal,or send me a message with these details.
--------------------------------------------
--------------------------------------------------------------Back to Page Top













Click below on each tutorial links to see pages inside!

Price 120$




10 PolyPedia E-Books of your choice -

CHOOSE 10 TUTORIALS OF YOUR CHOICE from:
PolyPedia E-Books (10 from this list)
Vol. 1-16
Vol. 19,20
Vol. 28, 29, 30
for 120$ instead of 170$+!

How to Create Polymer Clay Millefiori Canes: flowers canes, geometric canes, symmetric mirror-cut kaleidoscope canes, fruits canes, animal skins canes, flower centers canes& pillow beads, roses canes, butterfly canes, signature name cane and more for 120$ only instead of 170$+!

Hundreds of pages Step-by-Step Instructions TUTORIAL!
It's a great gift to anyone who loves working with polymer clay!

When purchasing this deal you will get FREE access to password protected videos! (where videos are included)

Pre-requisites: Some previous experience with polymer clay is helpful

Please write the vol. numbers/names of the tutorials you would like me to send you in the "message to the seller" on paypal,or send me a message with these details.

--------------------------------------------
--------------------------------------------------------------Back to Page Top