Your absolute guide to elaborated &
advance level flower canes!

Now you can become a skilled "caner"!
learn how to create artistic flower canes,
beautiful designs, accurate background filling
& perfect results!

Millefiori flower canning is one of the most popular techniques in polymer clay artwork, their beauty, vivid colors and appealing designs, seems like we are standing in the middle of a blooming field and smelling their wonderful scent.

There are endless flower types and endless ways to create flower canes - polymer clay is the perfect medium for these designs.

In the new Vol. 26 and 27 tutorials we are creating imaginary, fantasy petal designs, which are easy to follow and complete.

Every cane is demonstrated from start to finish with all the steps, details and tips required to successfully create the project!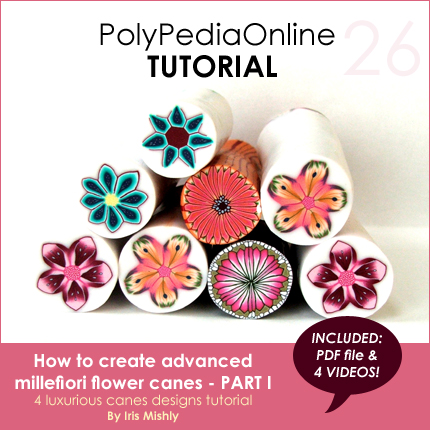 In Vol. 26 - advanced flower canes PART I tutorial we will cover the following flower canes -
1. 3D Kanzashi flower - with a beautiful skinner blended petal imitating a silk fabric flower
2. Multi Dots & Petals Flower - using a gradient skinner blend and an easy technique for creating stamens
3. Double Petal Kanzashi Flower - another feathery flower petal imitating a fabric flower using skinner blends and inserts.
4. Butterfly Wing Flower - a simple and elegant multi-petal flower design - 2 variations
In Vol. 27 - advanced flower canes PART II tutorial we will cover the following flower canes -
1- Splash Flower - a unique petal design & a perfect background filling
2- Pin Wheel Flower - with petals effects and creating a unique petal's top
3- Linked Flower - to create a fancy flowery version of a Celtic knot cane
4- Red Shimmering Flower - for a wonderful glowing flower design
5- Illumination Flower - a bright design of a flower cane using simple techniques

In addition to the cane designs themselves, we will cover the 2 of the most accurate background packing and filling of flower canes, while keeping their beautiful shape and avoiding any distortion after reduction.

We will address the issue of inserting stamens in 2 different techniques

Create complicated looking flowers using leftovers from other canes - The process is shown in details in the PDF file including photos and a videos.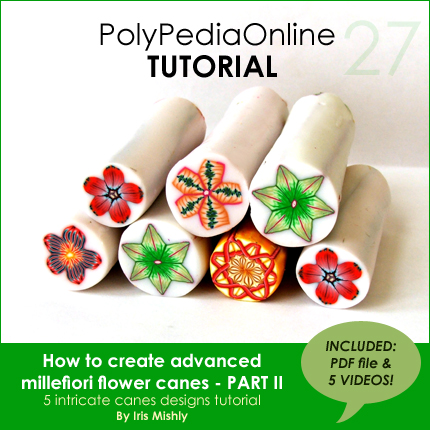 We will create canes with a different number of petals placed around a center cane - each flower will be assembled in a specific way, making sure the petals are highlighted correctly inside the design.

In the videos I am demonstrating my own way of creating a skinner blend and adding additional colors to create an interesting color theme for your flower canes.

This is your chance to see complicated canning on PolyPediaOnline videos! Vol. 26 and 27 are my first tutorials offering flower canning on videos.

If you already have Vol. 1 tutorial for backgroundless flower canes, Vol. 26 & 27 tutorials will perfect your skills.


Each flower is accompanied by a very detailed video demonstrating the process of creating the cane from start to finish!


VIDEO Sneak peek -

----------------------------------------------------------------------------------------------------------------------------
Only PolyPediaOnline tutorials contains several projects in a single file!
The tutorials are explained with detailed instructions and numerous photos to guide you through.
----------------------------------------------------------------------------------------------------------------------------
VIDEOS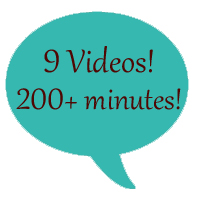 A special addition to the PDF tutorials - A password protected access to videos according to your purchase.

Vol. 26 - 4 Videos
1. 3D Kanzashi Flower - 30 minutes
2. Multi Dots & Petals Flower - 22 minutes
3. Double Petal Kanzashi Flower -27 minutes
4. Butterfly Wing Flower - 8 minutes + detailed photos in the PDF file

Vol. 27 - 5 Videos
1- Splash Flower - 37 minutes
2- Pin Wheel Flower - ~10 minutes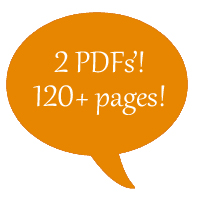 3- Linked Flower - 19 minutes
4- Red Shimmering Flower - 18 minutes
5- Illumination Flower - 12 minutes

==> When purchasing both tutorials (separately, or both) you will get unlimited access to all videos. There is no limitation on the number of times you can watch the videos, but you can not download them to your hard drive.
These videos are password protected and passwords will be sent to you by email after your complete your purchase along with the PDF files.

==> When purchasing the CD deal, you will receive a CDs with all the PDF files and 9 Videos to watch offline at your own time without the necessity of an internet connection and without typing a password.


Feedback from a customer -
................................................................................................................................
..."Iris! I can't tell you how excited I am with my new purchases!
Up until these 2 new tutorials were published I was making flower canes but wished I could see HOW YOU do it in person.
Since I live so far from you, I can't come to visit, BUT! the videos made me feel as if I was sitting next to you in a private class!
THANK you so much for sharing this, everything looks so much clearer!
Now I can become an ELITE caner!..."
Maria, NC USA
................................................................................................................................
Here is a "taste" of what you're about to learn -
Click to enlarge
▬▬▬▬▬▬▬▬▬▬▬▬ஜ۩۩ஜ▬▬▬▬▬▬▬▬▬▬▬▬
With 9 videos and a detailed PDF files
as your teaching guides -
Your success is guaranteed!
▬▬▬▬▬▬▬▬▬▬▬▬ஜ۩۩ஜ▬▬▬▬▬▬▬▬▬▬▬▬

Choose your next project:
Purchase PolyPediaOnline Vol. 26 Tutorial -
63 pages PDF file;
4 Videos

Price - 40$

That's only 10$ per cane!



Purchase PolyPediaOnline Vol. 27 Tutorial -


56 pages PDF file;
5 Videos

Price - 45$

That's only 9$ per cane!


Purchase

BOTH

PolyPediaOnline Vol. 26 & 27 Tutorials - 120 pages PDF file;
9 Videos

Price - 85$
ONLY 72$!

BONUS - When purchasing both vol. 26 & 27 - Get Vol. 1 - Backgroundless Flower Canes FREE!



If you already have Vol 1, you can choose a different tutorial from vol. 1-10.
Choose the tutorial that's best for you
and click on the "Buy Now" button

** FILES SENT BY EMAIL **
Due to time differences, please allow 24-48 hours for all files to arrive in your inbox.
* When choosing a "CD sent to your home address" -
Please make sure your paypal address is your shipping address.
If different, add a comment in the "message to the seller".

** INTERNATIONAL SHIPPING -
Please allow 10-28 business days for shipping to USA and Europe or 14-28 business days to Australia and Asia.
During holidays seasons, delivery time may vary.

My Personal Guarantee
If, for any reason, you are not happy with your purchase, you can ask for and get a 100% refund of your purchase price.
I am so confident with my product that i am sure you will be happy with it as well.
A superb flower cane starts with a good pair of hands and a good guide -
Take this class today and upgrade your cane skills!