Final products tutorials!
Take your technique skills to the next level!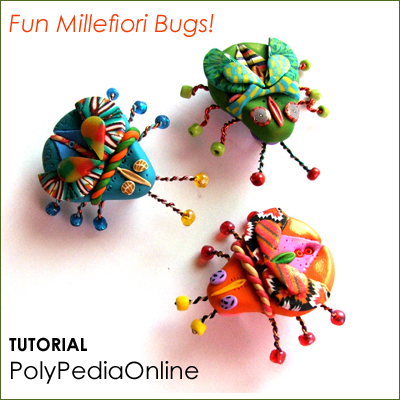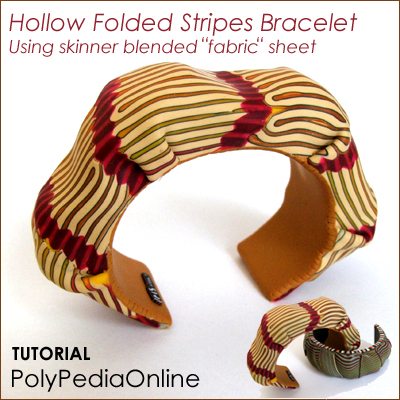 Here Is A "Taste" Of What You're About To Learn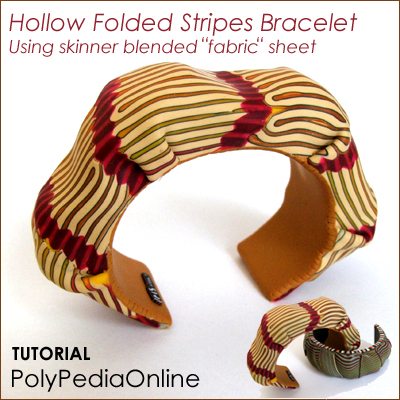 Hollow Folded Stripes Bracelet
Building forms for hollow light-weight jewelry and objects using aluminum foil addings & decorated with skinner-blended stripy cane

My tutorial demonstrates both how to make a large hollow form bracelet using aluminum foil & clay and a decorated "fabric" striped skinner-blended cane. The bracelet "folded look" resembles a wrapped fabric over a bracelet base.


This project is a demonstration on creating extent and over-volume jewelry or sculpturing while being light weight and innovative.

PDF file of 20 pages and more than 100 photos, File size: 2.77 MB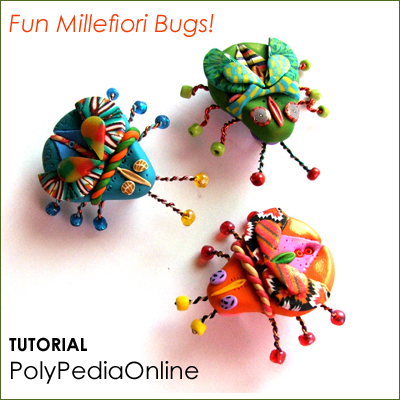 Fun Millefiori Bugs tutorial
Although none of us like them on our floor, these polymer clay colorful bugs are charming and so cute.
They are a sure hit on any jacket, shirt or bag and will give that extra chic of color. Be prepared! people may want to hold and feel these little bugs of yours!
They are fun to make as they are pretty!
Just choose your clay, colors, canes, patterns, stamps, texture, shape, cutters, beads and the fun begins!
Tutorial is for making polymer clay bugs pins with pre-made millefiori canes.

PDF file of 16 pages and more than 80 photos, File size: 1.6 MB

Sneakpeek here!
Page 1
|
Page 2
|
Page 3

What is the best deal for you?


+
both tutorials are
36$ instead of 48$!


Get 12$ OFF!




OR

20$ instead of 24$!


Get 4$ OFF!




OR

20$ instead of 24$!


Get 4$ OFF!



This offer is valid for 1 week only!
after this date price will be 24$ for each tutorial

Enjoy!