Get the most comprehensive tutorial
for wearable purses & pouches,
4 projects, 43 pages PDF file, over 160 photos
and 8 videos;

Learn how to create one-of-a-kind,
original and creative mix media products
that upgrade your polymer clay skills in 24 hours!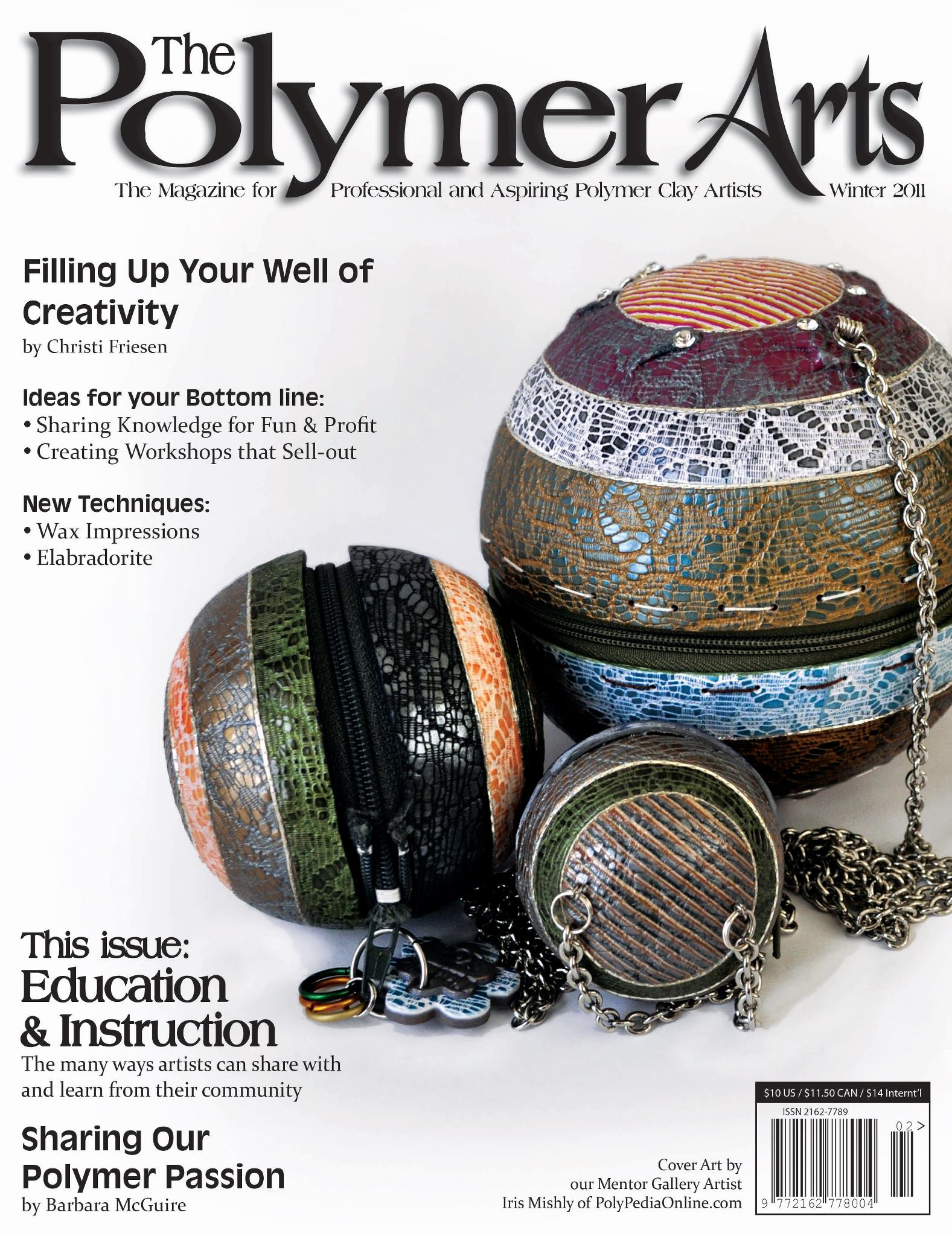 Welcome to the Brocade collection!
The Brocade collection is an innovative product tutorial which was created from a fashion design inspiration & perspective. Mixing materials, combining techniques, seeking for intriguing shapes and patterns was the main goal of this class.

The simplicity and practical uses of this design can show you how you can develop it further with any design, pattern, color or texture you wish.
The "Brocade Collection" purses were featured on the cover of winter 2011 "The Polymer Arts" Magazine.

In this tutorial you will learn how to -


Create an unusual mix media product that can be transformed into additional 100 designs using detailed steps by steps instructions, more than 160 photos and 8 comprehensive videos .


Use simple tools and materials to create a unique design that will astound everyone!
Learn a clever-easy technique to imitate a rich brocade fabric look using material almost every woman owns.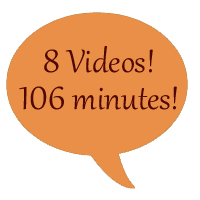 Get the tools and materials to start creating immediately, along with 2 CD's and a kit sent directly to your home in a gift box.


How to create functional and original designs for zippered cases, pouches and purses in two different techniques.


Combine between soft materials (fabric, zipper) and stiff materials (polymer clay) to create a perfect match.


Incorporate the elegant brocade technique into your jewelry - Create a beautiful bracelet!


Enjoy an ocean of ideas on how to use the hemisphere design - Here are some of the ideas mentioned in my blog quiz as an inspiration!
Bowls, compact mirror, doorknobs, brooch pin, Christmas baubles, buttons , jar topper, rings, pendants, wall pieces, hanging mobile, hollow bead neck piece, lampshade, cabochons, easter eggs, paper weights, magnets, TicTac game, 'hour' markers on a clock, part of a chain belt, calendar markers, scarf holder, pendant, hair accessory, fancy pool balls, bead caps, a memo, a picture holder, Wind chimes, chess pieces, music box topper, and some cool ones - fake eyeballs, Bra and eye patches for effete pirates!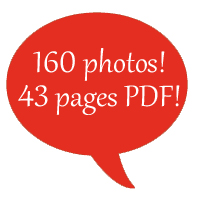 What's included in the tutorial?
In the tutorial we will review the process of building a base hollow form for the hemisphere purse.
While they are curing we will learn how to apply the brocade technique.
Then, we will continue to finishing, drilling, gluing, stitching and assembling your purse/pouch. I will also walk you through a similar yet different process of creating a square zippered box, and finally we will learn how to create an appealing bracelet.
-------------------------------------------------------------------------------------------------------------------------------------------
Only PolyPediaOnline tutorials contains several projects in a single file! The tutorials are explained with detailed instructions and numerous photos to guide you through.
-------------------------------------------------------------------------------------------------------------------------------------------

VIDEOS
A special addition to this tutorial are 8(!) videos totaling of 106 minutes showing the process of creating the hemisphere purse, the prism square case, the pyramid box and the bracelet.
* Hemisphere purse - 5 Videos - Approximately 60 minutes tutorial divided into subjects
* Prism square case - 18 minutes
* Pyramid box video - 11 minutes
* Bracelet Tutorial video - 17 minutes

Brocade Collection KIT
In addition to the PDF file and 8 videos, you will receive 5 cm (2 inch) oven proof hemisphere glass form, a fabric sheet and a zipper to make your own hemisphere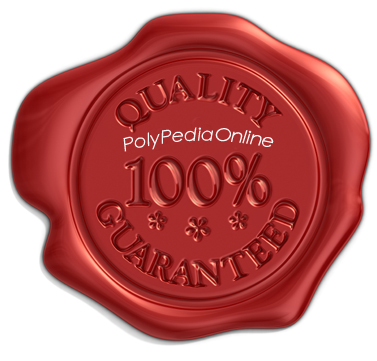 pouch/purse. The form is ideal for this project and for other uses as well - beads, bowls, door knobs, buttons, rings etc.

Here is a "taste"
of what you're about to learn -
| | | | |
| --- | --- | --- | --- |
| | | | |
| Polymer Clay Hemisphere Project | Polymer Clay Hemisphere Project | Polymer Clay Hemisphere Project | Polymer Clay Hemisphere Project |
| | | | |
| Polymer Clay Bracelet Project | Polymer Clay Square Case Project | Polymer Clay Pyramid Project | Polymer Clay Square Case Project |
| | | |
| --- | --- | --- |
| | | |
| Polymer Clay Hemisphere Video | Polymer Clay Pyramid Video | Polymer Clay Square Case Video |
| | | |
| Polymer Clay Hemisphere Video | Polymer Clay Bracelet Video | Polymer Clay Hemisphere Video |
VIDEO Sneak peek -


Listen To What My Clients Have To Say About PolyPediaOnline Tutorials...

Iris, Your tutorials are absolutely SUPERB in every way. I've been making canes for about 10 years and it's hard to find anything new that gets me excited, your tutorials did it for me! Thank you so very much for putting them together and sharing with us. I must admit that at first I thought the price was a wee bit high, but after seeing what you put into making the tutorials the price is a BARGAIN.
Cathy harm

I have been making polymer clay jewelry since Oct. of 2010. I started from no knowledge until I found Iris's tuts. Since then my skills have increased and I have enjoyed every single tut that I have purchased from her. I highly recommend ALL of these for all level of clayers!!!
Heidi Wyrick

I just purchased and read the clear, concise tutorial on making puffy hearts. It is easy to understand for the novice as well as the experienced. The pictures are great and easy to follow. I will be checking on your other tutorials. Thank You!
Gladys Mealey

These tutorials are amazing. I have learn a lot from them and can't stop having great ideas each time there is a new tutorial. Thanks teacher!
Rocio Rodriguez Torres


This tutorial will enhance your polymer clay knowledge and will teach you how to create original, refreshing and irresistible designs!


Choose your own tutorial deal -
OPTION #1

OPTION #2

OPTION #3

PDF file - includes 46 pages
and over 160 photos, step by step instructions to guide you through all 4 projects, sent in 2 emails.
Price - 40$
PDF and 8 Videos (Total video time - 106 minutes)
Price - 51$

The Complete

Brocade Collection Kit -
A CD with PDF file, 8 videos
to view offline on your computer,
a hemisphere oven proof glass form , fabric sheet zipper - All sent to your home address.
Price - 65$
FREE SHIPPING WORLDWIDE!

Choose the tutorial deal that's best for you
and click on the "Add to Cart" button

** FILES SENT BY EMAIL **
Due to time differences, please allow 24-48 hours for all files to arrive in your inbox.


* When choosing a "CD sent to your home address" -
Please make sure your paypal address is your shipping address.
If different, add a comment in the "message to the seller".

** INTERNATIONAL SHIPPING -
Please allow 10-28 business days for shipping to USA and Europe or 14-28 business days to Australia and Asia.
During holidays seasons, delivery time may vary.

My Personal Guarantee
If, for any reason, you are not happy with your purchase, you can ask for and get a 100% refund of your purchase price.
I am so confident with my product that i am sure you will be happy with it as well.


Think outside your jewelry box with exciting new techniques and designs!