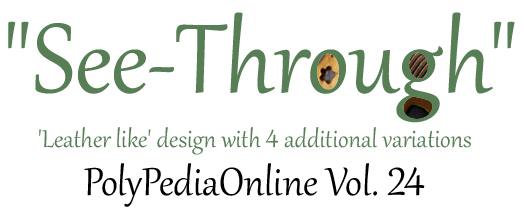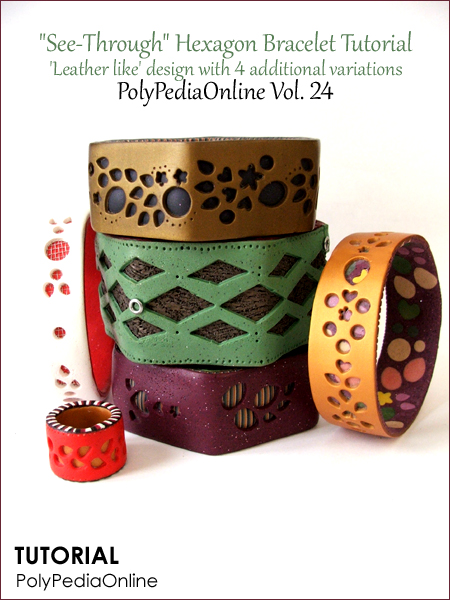 This new bracelet tutorial combines the perfect mix of polymer clay, a leather like finish, cut-out classic shapes, double/triple layers peeking through the holes & textures and designs hidden inside.

My tutorial demonstrates 2 different ways and 6 designs for creating elegant and attractive jewelry using triple/double layered clay sheets and cut-out shapes.


In this class you will learn how to create 6 designs and incorporate the pattern in circular bracelets, hexagon bracelet, a round ring and a "mosquito" mesh bracelet.
plus - a 21 minutes VIDEO is included!

What will you find in PolyPediaOnline Vol. 24 new tutorial?

6 designs tutorial showing various patterns, forms, technique and combinations -

1 'Leather-like' hexagon bracelet tutorial + Video

2 Triple layered hexagon bracelets tutorial

1 Mosquito mesh "see through" bracelet tutorial

1 "See through" ring tutorial

1 circular multi color "see through" bracelet

44 pages PDF file, 160+ full color photos, 21 minutes VIDEO!

The shape, layers, colors and different patterns seen through the holes give this design a geometric and a classic presence.
and...
The possibilities are endless! This technique can be easily adapted to flat designs, beads and other shapes of cuffs and bracelets.

With this statement piece on your arm, you'll be needing no other adornments!

Here is a "taste" of what you're about to learn


1 'Leather-like' hexagon bracelet tutorial + 21 minutes Video!

2 Triple layered hexagon bracelets tutorial

1 circular multi cut-out "see through" bracelet

1 Mosquito mesh "see through" bracelet tutorial
1 "See through" ring tutorial
Snapshot - 21 minutes Video

'Leather-like' hexagon bracelet tutorial

-----------------------------------------------------------------------------------------------------------------------------------------------------------------------------------------
To make this tutorial affordable to everyone,
I gathered all 6 projects into 1 file,
offered for a special price


Only 32$ for 6 unique classes and video


(That's less than 6$ per class)

Press Below
File size is 3.2 MB, Please make sure you have enough space in your inbox! :)
If you prefer your purchased PDF and Video on a CD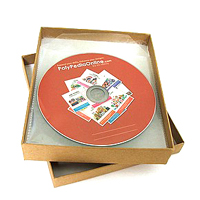 I will be happy to sent it to your home address -
Choose - "Tutorial by CD sent to your home address
postage worldwide - 11$