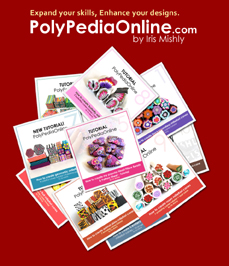 So, why choose PolyPediaOnline?

If you're reading this, you're either into polymer clay as a hobby, you're a curious polymer clay artist, wish to start your business in polymer clay or possibly you just heard about polymer clay, for the very first time.

Either way you're here because you're looking for new things to learn and enhance your polymer clay abilities; If you just heard about polymer clay you may want to learn more or get started.
Whatever the reason, you're in the right place!


PolyPediaOnline Vs. Workshop/Class?
If you want to learn polymer clay, you can participate in one or more polymer clay classes, maybe if you're lucky you'll find a full course on the subject you are interested in where you live, maybe you would have to travel far, OR you can choose to learn at PolyPediaOnline, choose your own subjects, at your home, your own pace, when you want and get the best tutorials online on a specific subject you are interested in.


What are your benefits if you decide to buy a tutorial here at PolyPediaOnline?
Each tutorial covers a specific subject; before you purchase a tutorial you'll know exactly what you're getting. In PolyPediaOnline each Vol is covering a wide range of projects/techniques on the same subject, this way you have all-in-one like a real Encyclopedia.

When do you learn the PolyPediaOnline tutorials?
Whenever! on your own free time, at 5:00pm or 3:00am, it's your decision. Whether you're an employee by day and polymer clay artist by night, a busy mom or an eager enthusiastic. Have a quick run through or a long dedicated session, it's up to you, to your ability, to your preferences. Too tired to learn anything today? No problem, no hassle! Do it tomorrow, or the next day. You didn't quite get the last stage? Check it out again. Read it once more, try it again, no one will speed you up, no one will be "moving on to the next stage", AND you are always welcome to email me with your questions, i am online quite a lot :)
The price of the tutorials is so affordable, that you'll be able to purchase much more knowledge and start creating in polymer clay in no time! You'll be able to get the quickest, most convenient and rewarding return on your investment, ever!
Still not convinced?
Checkout what PolyPediaOnline members/students say about our online tutorials


Want to be absolutely, positively super duper sure that PolyPediaOnline online tutorials are the right tutorials for you?
Go ahead check out PolyPediaOnline free tutorials, and sample our free online classes, instantly!